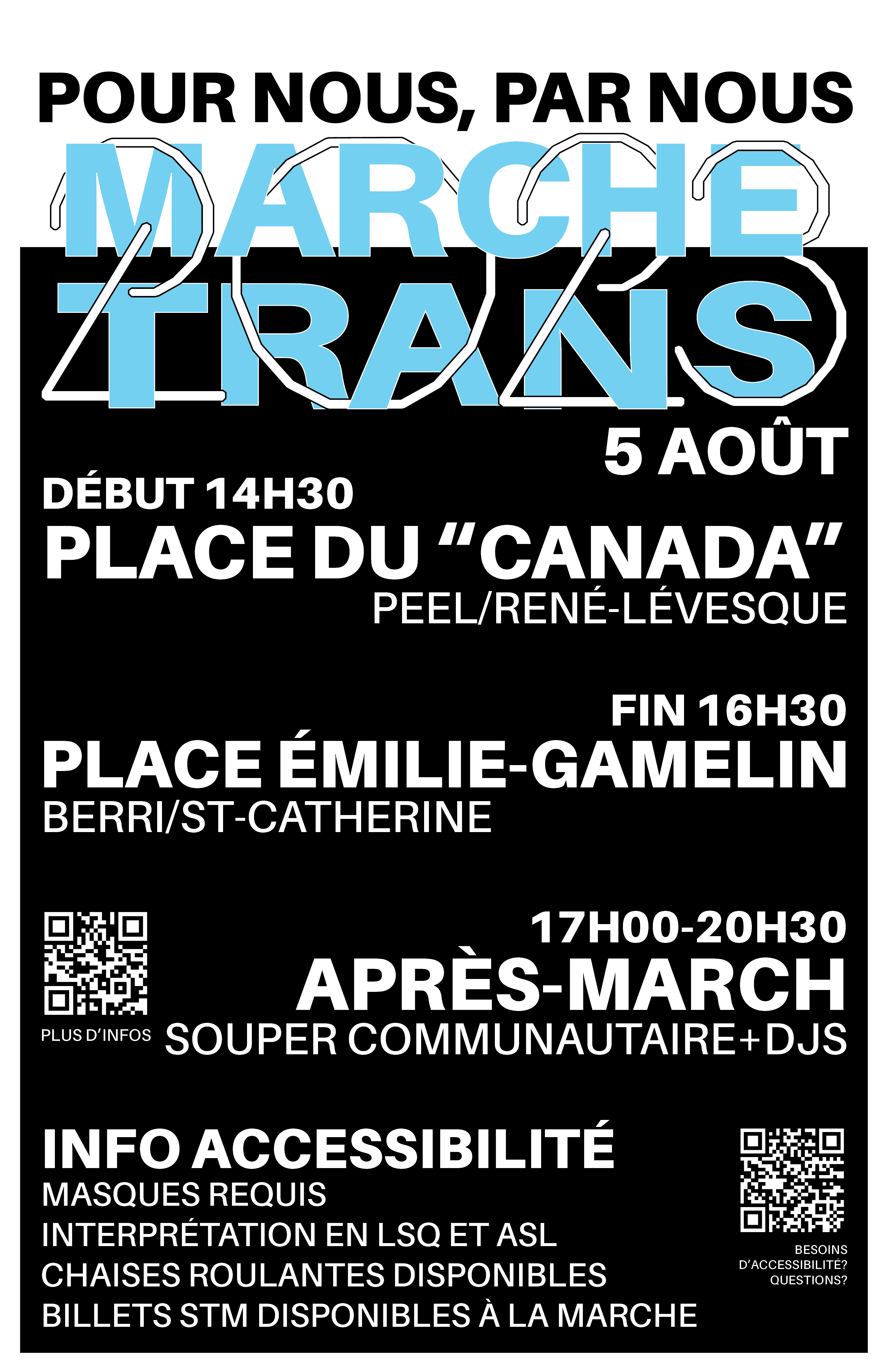 TRANS MARCH 2023
The Trans March is a yearly protest that takes place early August in "Montreal". We are taking the street together to celebrate in community and make demands. I was part of the organizing comitee and coordinated the communications: making posters to put up in the streets, a website consolidating important information and a zine that was handed out to protesters during the event. Here is a link to the
website
.
Team
Logo design: Sabina Roman + Goudron R.
Poster design: Sabina Roman
Zine design: Goudron R.
Riso printing of the zine: Sabina Roman + Goudron R.
Website desing: Sabina Roman
Website development: Alex Nawotka
Content writing and translating: Ilya Skene + Fern Lou Fernandez + Cat Gonzalez + Gabriel Paquette
Photography featured on the site: Laurence Philomene + Elio Choquette
TRANS PICNIC, SUMMER 2023.
T-picnic is a spontaneous picnic organized by trans and non-binary people for the trans* community. We wish to create a space that celebrates our existence. It is a moment to come together, play outside, and share food and drinks in community. Here is a link to the
instagram
.
First edition team
Poster design: Tristan Roy Bouchard + Sabina Roman
Sencond edition team
Poster design: Aiko Perrault
TRANS-MASC PORTRAIT SERIES, MARCH 2023.
This series of portraits depicts trans-masculine people and queer people with masculine gender expression. Wishing for the boundaries of this project to be fluid and welcoming, any trans or queer people with an inclination towards masculinity, whether as a fixed masculine identity or a temporary masculine expression, are welcome to join. In the cultural context of a lack of visibility of trans people and stories, this photographic project aims to create a complex visuality of trans-masculinity.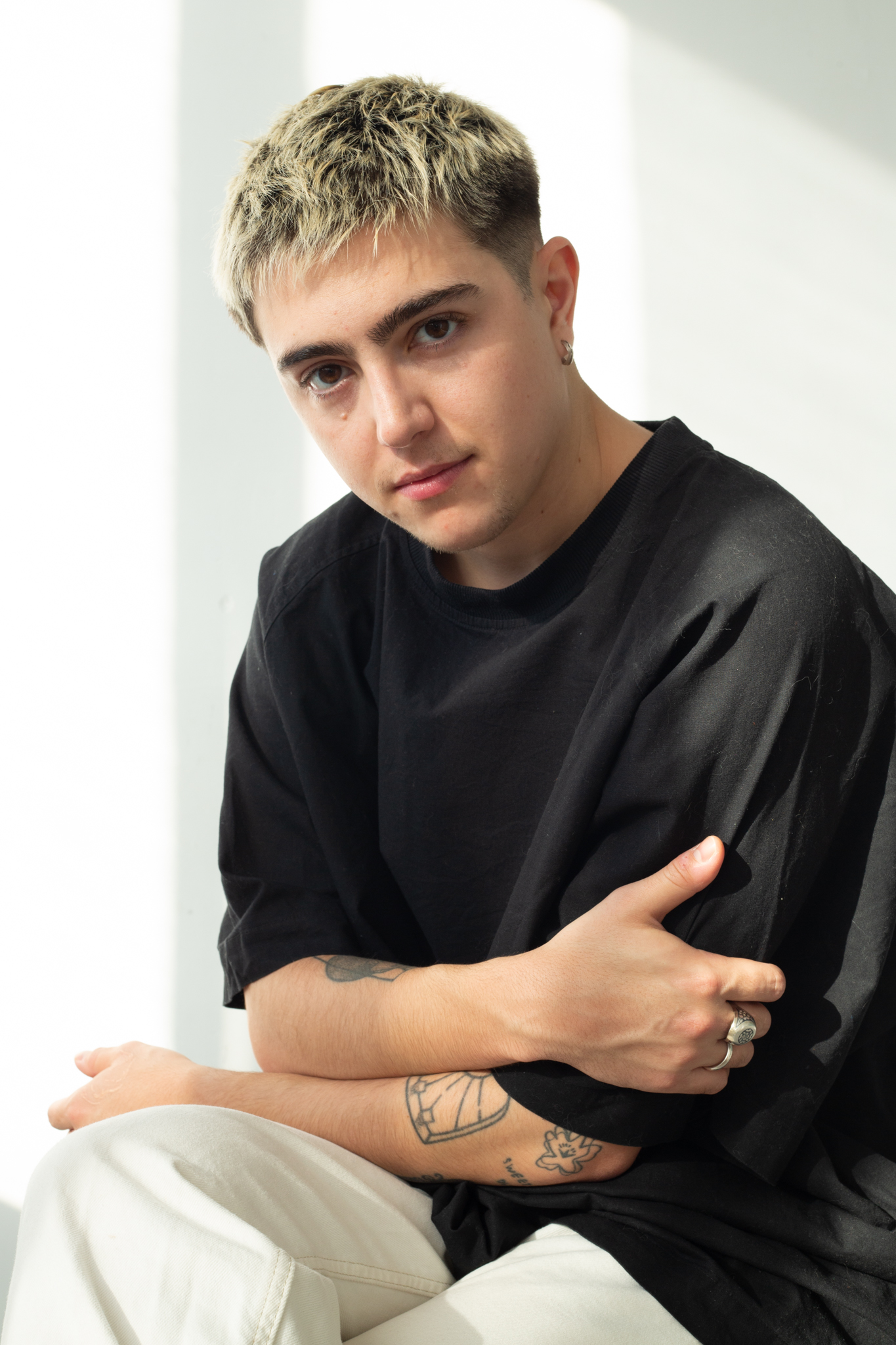 TRANSNESS PHOTO SERIES, DECEMBER 2022.
This research-creation project offers a representation of trans-identity in three parts. The zine Looking for Transsness in the Quebec Gay Archives regroups archival visuals of gay, trans and queer people and spaces. The large image is a self-portrait of the artist with their partner in a wish to start photographing T4T relationships. Further, a series of studio portraits depicts trans-masculine people. The three components communicate through different formats and practices to create a conversation between the past and present of trans identities.
AMINTIRILE DIASPOREI
This is an archival platform bringing to light pictures in the context of Romanian migration. It aims to collect and make accessible family pictures from Romanian migrants. Through this platform, we hope to gather mateirals that can interrogate the role stories and narratives play in activating cultural memory. This project seeks to preserve a collective visuality specific to the context of Romanian migration. Here is a link to the
website
and
instagram
.